London Net Studio gets it right! We take the time to learn how you work and to understand the issues that you face. Our process relies on observation of the various roles within an organization, how they perform their tasks and how they interact with the larger business process.
Jeffrey London, Principal of London Net Studio, has over 10 years of experience translating into an ability to quickly grasp and resolve problems. Jeff has consistently brought his understanding of information systems and interaction design to address contemporary business problems. A Certified FileMaker Pro developer, Jeff is also member of the FM Business Alliance, FileMaker Technical Network, and Chicago Area FileMaker Developers Association, and President of the Chicago Creative Coalition.
Contact Jeff today to answer your questions and get started on your solutions.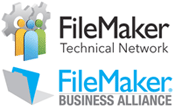 Not just "working on the same page," but creating the shared page to work from.
Filemaker Links

Small Business
Manage contacts, organize products and inventory, track projects, and more with database solutions.
learn More

K-12 Education
Track students, manage registration, organize lesson plans, and more.
learn More

Med—Large Business
Streamline business processes and manage data more efficiently using business software solutions.
learn More

Non-Profit
Manage your fundraising, programs, track volunteer data, manage mailing lists, maintain donor information, and more.
learn More

Creative Professionals
Manage your workflow, client details, digital assets, and more.
learn More

Higher Education
Track grants, manage admissions, catalog research findings, and more with easy-to-use database software.
learn More

Government
Improve services and reduce administrative overhead, while containing costs.
learn More